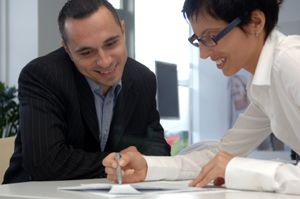 Have you ever had a question and either didn't know where to find the answer or were too afraid to ask? If so, you've come to the right place.
As the name would suggest, this section is a compilation of answers to the questions our clients commonly ask. Here you'll find answers to common questions our clients ask. Just start by following one of the links below.
At what resolution should I save my photos and graphics?

Resolution should be set to 300 dpi.

Pictures and graphics pulled from the internet are often low resolution, typically 72 dpi or 96 dpi. Avoid these graphics, as they will appear pixilated and blocky when printed.

Also note that you should save all photos in CMYK mode, not RGB mode when possible. Images saved in RGB mode may not print properly. If you are unable to save your image in CYMK mode, please let us know.

How do I go about getting an estimate from you?

Well, since you are here, we would suggest you use our online estimate request form. Otherwise, the best way to ensure that we get all the information necessary to do an accurate quote is to give us a call and talk with one of our customer service representatives.

How do I set-up a bleed?

Constructing a bleed is not hard to do but forgetting to include them in your print job can cause a lot of problems, including an unintended white border around your pages.

When you set up your publication in your page layout program, pull a set of guides 1/8 inch beyond the page borders. When you place graphics or design elemnets at the edge of a page, make sure they extend to these guides.

Aligning objects exactly with the edge of a page is asking for trouble. Paper being fed into a press can shift ever-so-slightly and pages are not always precisely cut at the trim marks. It is virtually impossible to cut exactly on an edge without leaving a tell-tale bit of white. Properly setting up your project to include a 1/8 inch bleed avoids this problem.

I have some really large files to submit. What is the limit for your website?

Bring on the large files! We can transfer up to 1 gigabyte online. You may want to compress them first, particularly if there are multiple files, to speed up the transfer process.

I received a notice about an online proof but have been out of the office for a while. I haven't been able to access it - what's wrong?

Proofs are kept online for 10 days and than automatically removed. Contact us and we'll post your proof again to get your project moving.

Is white considered a printing color?

Not typically. Because white is the default color of paper, it is simply recognized as the absence of any ink. However, when using colored paper, white ink may be used if any text or graphic requires it.

Tips on how to save your design files

Make them print ready and acceptable for us to print.

COREL DRAW:
Saving your Corel Draw file as an Adobe Illustrator EPS
• Embed all Images
• Convert all your text/copy to outline fonts
• Export as Illustrator EPS

FREEHAND:
• Embed all Images
• Convert all your text/copy to paths
• Export as Illustrator EPS or PDF

PAGEMAKER:
Saving your PageMaker file as an EPS
• Embed all Images
• Convert all your text/copy to outline fonts
• Export your file as an EPS using the below settings:
Postscript Level 2
CMYK Mode
TIFF format and
Binary

PUBLISHER:
You will need to have the full version of Adobe Acrobat PDF. If you don't please download and use our Adobe Job Ready Program. If you do have the full version of Adobe Acrobat PDF please follow the steps below.
Under File, Print, select Adobe PDF writer
Under Properties select Press Quality and Save your PDF

What file format should I use when submitting my electronic document for printing?

PDF (Portable Document Format) is the most common and preferred file format for submitting digital documents. With the installation of a PDF print driver on your computer, virtually any program can generate a PDF file suitable for printing. Both commercial and free PDF print drivers are available online for download from different sources.

What is a "proof"?

A proof is a way of ensuring that we have set your type accurately and that all type and graphic elements are positioned according to your requirements. Typically, we will produce an initial proof which will be sent to you online. If you prefer or for final proofing, we can print a paper proof which can be viewed at our facility or delivered to you in person.

On multiple color jobs, we can produce a color proof on one of our color output devices to show how the different colors will appear.

What is a Customer Portal?

A Portal is a special, password-protected "Web site within our Web site" designed to assist you in doing business with us. This special service was designed to be user friendly. You will find all the same services as in our general website. All forms such as 'Place an Order' or 'Send a File' can be configured to the way you like to do things. Customer Portals have features including a Document Library that displays your most frequently ordered products and to track items we keep in inventory for you. Transfer files to us, proof and approve your current jobs in production, or order additional quantities of previous jobs. Even variable customer entry of varible data is possible.

What is a bleed?

When an ink needs to extend to the edge of the paper, the graphic or image in question must bleed, that is, it must be set up to print a little beyond the edge so that when we trim the paper, it appears as if the ink printed off the edge of the sheet.

Pulling your photo, graphic or background beyond the page trim size ensures that when the paper is cut down to size, the ink coverage will extend to the edge of the paper.

What is a varnish?

Varnish is used to protect a page from scuffing or smearing and to accentuate photographs and graphics. Applied as a clear, resinous coating, a varnish can really brighten up a page.

There are two basic types of varnishes - spot, which only covers a portion of a page, or flood, which covers the whole page. Additionally, there are two styles of varnish: Varnishes can have a glossy finish or matte finish.

A flood varnish needs no file preparation in your page layout program because it can be applied as an overcoat. Spot varnishes can be a little tricker. They need to be prepared in your page layout program as a spot color. Name it something obvious like Spot Varnish, then create boxes or frames filled with that color and place them where you want the spot varnish to go.

There may be some trapping issues with your page layout program. Make sure your spot varnish is set to overprint so items below will not be knocked out. Finally, if your spot varnish bleeds off of part of the page, set up the spot varnish plate to bleed based on the directions outlined above.

Not all projects are good candidates for varnishing, so consider asking us first.

What is the Pantone Matching System?

The Pantone Matching System (PMS) is a color reproduction standard in which colors all across the spectrum are each identified by a unique, independent number. The use of PMS allows us to precisely match colors and maintain color consistency throughout the printing process.

Good question! We are a full service shop and offer a wide range of products and services. To see a full listing and description of what we can offer you, check out the Products & Services area in the Customer Service Section of our website.

Why do the printed colors look different from the colors on my screen?

In short, printers and monitors produce colors in different ways.

Monitors use the RGB (red, green, blue) color model, which usually supports a wider spectrum of colors. Printers use the CMYK (cyan, magenta, yellow, black) color model, which can reproduce most—but not all—of the colors in the RGB color model. Depending on the equipment used, CMYK generally matches 85–90% of the colors in the RGB model.

When a color is selected from the RGB model that is out of the range of the CMYK model, the application chooses what it thinks is the closest color that will match. Programs like Adobe Photoshop will allow you to choose which color will be replaced. Others may not.