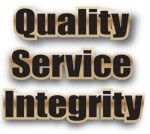 Sprint Quality Printing, Inc. is a full service print and graphics communications company that can handle your ideas from concept to completion utilizing a combination of technology and experienced professionals. A company with:
A Trustworthy Reputation - providing clients peace of mind through superior products & services.
Time-tested Experience - firmly established and community respected since 1981.
Independence - owner operated, directing our focus and accountablity to our clients, not our shareholders.
Reliable Performance - deeply committed to meeting your schedule and budget.
Personalized Service - available whenever you need assistance or just a quick answer.
Quality Driven People - our unwavering standards and professionals make the difference.
Up-to-date Equipment and Processes - provides flexible, efficient, and affordable options to successfully complete your project.
We take the trust our clients place in us very seriously. We understand your image sends a message about your product or service and impacts your success...We treat it like it's our own.
In this section you'll find information regarding the people, culture, policies and physical plant of our company. If you want to know our location and hours, or simply what makes us tick, just follow the provided links for more information. We think it is important to know who you're doing business with. Once you take the time to find out what we're all about, we're confident you'll like what you see.