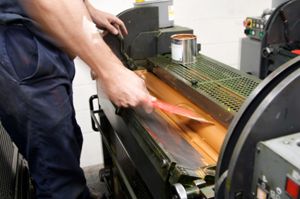 We have some great toys (some call it equipment)! Our workflows are designed to be flexible in order to handle the wide variety of products needed by our clients. Almost every project starts with a computer file of which we handle a large range of applications on both Windows & MAC platforms. Projects are directed to production equipment based on a number of factors such as type of product, quantity, time frame, color requirements, material choice, cost & several others. Our broad range of equipment allows us to provide our clients with a full spectrum of high-quality products, fast. All of our equipment and infrastructure has been selected with an unyielding criteria of quality and adaptablity.
The listings below will provide an overview of our equipment but if you are a nuts-and-bolts type and would like to come by to see our stuff you are welcome anytime.
Design/Prepress
Agfa Computer-to-Plate System

Agfa Digital Proofing System for Offset Priniting

Epson Professional Series Scanner

Macintosh Graphics Workstations

Software(both MAC & PC versions)
Adobe PhotoShop
Adobe Illustrator
Adobe InDesign
Acrobat Professional
QuarkXPress
Microsoft Publisher
Microsoft Word
Microsoft Excel
Microsoft PowerPoint

Windows Graphics Workstations
Digital Printing
Digital printing capabilites range from B&W to hi-resolution digital color with sheet sizes up to 12.5" x 19." Larger wide format sizes are available for posters sized up to 42" wide.

Epson Wide Format Printer

Xerox DocuColor Digital Press

Xerox Nuvera B&W Digital Publishing System
Offset Printing
Offset printing capabilites range from one-color black ink up to four color process with varnish coatings. We handle a wide range of sheet sizes. Here we can handle the widest variety of materials types, material finishes, and weights. Offset printing yields excellent commercial quality - backed by our state-of-the-art digital workflow, computer-to-plate system, and skilled craftsman. As a general rule, larger quantites are usually produced here. May times, offset printing is combined with digital to yield some unique products at a cost effective price.
Finishing
From cutting to binding, we have the resources to provide the right finshing technique to your project. Unique folds, special slits or cutting, unique sizes, booklets of many types, drilling, and plenty more. And when your project is finished - we can handle the mailing as well! Don't have a mailing permit for that special project that needs to get out? We'll give you use of ours.

Addressing, Labeling, Tabbing & Processing

Comb Binding/Velo Binding

Duplo Booklet Making System