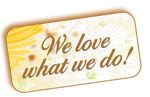 The passion we have for our work enables us to take ownership of our clients' projects. We constantly strive to deliver the highest-quality products possible.
There is great satisfaction in delivering a finished product that helps a client reach their goals and objectives. To learn more about our approach to customer service, follow the provided links in the left hand menu for more information.
Mission Statement
Our mission is to be the preferred print and graphics provider of our clients by developing long-lasting relationships built on quality, service, integrity, and value - mutually benefitting the goals and objectives of each organization resulting in competitive advantage to our clients.
Core Values - What We Believe
We believe:
the customer drives our efforts and is the focus of all our activites.
continuous improvement will lead to continuous quality fostering
long-lasting relationships.
value is acheived by combining consistent quality and service with performance
to schedule and budget.
our people are our greatest asset - capable of competing in the marketplace, acting
as one team, respecting and supporting each other.
in compliance with all regulatory and community standards.
in service to our community.
in always conducting our activities to the highest ethical standards and integrity,
treating all with respect.
We're proud of the strong roots we've built in our community since 1981. We will continue to evolve as a diversely skilled, fast-moving team of professionals ready to learn from each other and meet the challenges our clients may face.